Beer Leveling & Land Development - About Us
About Us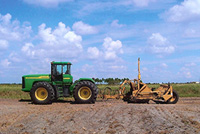 Beer Leveling & Land Development was established in February 2007. We specialize in providing land preparation and maintenance services for agriculture producers. Our family has been involved in Florida agriculture since 1965. As citrus and vegetable growers, we know how important it is to have a qualified contractor to do our field work. We are committed to providing exceptional service and support to our customers because that is what we would expect in our own groves and farm fields. Whether you are looking to redevelop old citrus grove, clear and level land for new farm fields or pastures, or just perform some routine maintenance to your irrigation ditches, we know how to do the job right the first time!
Our Business Principles
Our company is structured on some basic principles.
#1 - We are guided by God through our Christian values and biblical principles. These values and principles include personal faith, honor, integrity, trust, humility, respect, love, and treating others as we desire to be treated.
#2 - We intend to help others through our talents, gifts, and money, and build lasting relationships that will have a positive influence on our customers, employees, vendors, community, and industry at large.